Data protection plans starting at $120 per year!
Don't take unnecessary risks! Your data is too important to "hope" it will be safe.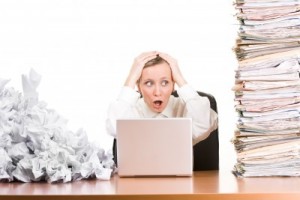 More and more people are switching to a "paperless" office and keeping copies of all physical documents on their computer instead of in their filing cabinets. It's a really great idea. Not only can digital items be tagged and located easily, they take up far less space and are safe from water damage, theft, or natural disasters. Before long, you may find that you have absolutely everything you need for your business, your taxes, your financial management, and even your personal memories and photos on your computer. Handy, right? You bet!
However, many people don't take the time to ensure the safety of their digital documents. Stop for just a moment and consider what it would mean for you, for your business, or for your family to suddenly lose everything on your hard drive. Not a pleasant thought, is it?
The good news is that it is so easy to protect all of that information. Once you make the decision and get it set up, it can all be taken care of automatically and you never have to worry about it again. There are ways to do it yourself or we can certainly help out as well.
Our data protection plans include:
One on-site visit and local backup per year
Hard drive imaging to ensure the easiest restoration of your entire hard drive in the event of a complete crash
Continuous online backup to keep your data files safe
Our basic service begins at only $120 per year. Additional services are available, and we would be happy to give you a personalized quote. Just give us a call.